Announcing our End Of Summer Sales!
In appreciation for everyone's support this summer, MBA is having a different sale each week for the next few weeks. You will have to stay-tuned to see what is on sale each time so you don't miss out. Sales prices will vary from 20-50% off retail pricing.
The first weeks sale is on our 28mm Modern Buildings. We have some great buildings that many of you have seen used in our Iraq game, or would work great in a zombie game as well.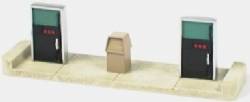 There are more and more modern scenarios out there and our buildings will give you the awesome pre-painted, pre-assembled terrain you need for whatever scenario or rule set you are playing.
This weeks sale items

September 5th through 14 September.

Product ID

Description

Old Price

Sale Price

10905

Convenience Store

$59.95

$49.95

10906

Gas Pump Island

$19.95

$9.95

10913

Car on Blocks

$11.95

$5.00

10914

Bldg Modernization kit

$19.95

$9.95

10915

Apartment Building

$89.95

$70.95

10916

Office Building

$124.95

$99.95

10917

Office Building 2nd FL

$74.95

$49.95

10918

Office Building Ruin

$109.95

$84.95
These are great prices that are here only for a short time. Get them while you can.
Thanks again from,
Kirk, Claudia, Jim, and Parry
Miniature Building Authority, Inc.
404-932-3106
I pulled the above from the
MBA Blog
. I realized it might not have been obvious from my last post.